| | | | |
| --- | --- | --- | --- |
| Introduction to Volume 2014 | | | |
---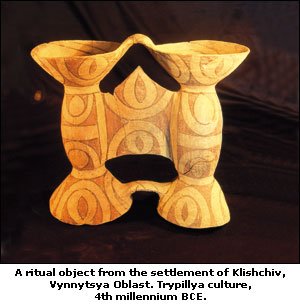 ---

Introduction to Volume 2014

Despite the fact that the year 2014 turned out to be dramatic for Ukraine, the Journal will continue to exist. We already have scientific papers, information for new publications and scheduled events. Life goes on.
The research of Trypillian Antiquities in Ukraine today is performed not only by Ukrainian scientists, but also by the joint efforts of many scientists from European countries, including the UK and Germany. This will extend the number of researchers who are interested in Trypillian Culture. Our special attention this year will be given to the international projects for studying huge Trypilian settlements near villages Nebelivka and Maydanetske. The use of a new generation of magnetometers and AMS dating has allowed us to learn new information and to open new horizons in the research of one of the oldest cities in Europe. To discuss the results and prospects of this research we will attend the dedicated section of the Annual Conference of the European Union of archaeologists in Istanbul, which will be held in September of this year.
This year our colleagues from Romania will celebrate 130 years since the discovery of the Cucuteni culture (1894). A conference in Piatra Neamt to be held in October of 2014 will be dedicated to this event. Archaeologists from many countries will be invited to this conference, including archaeologists from Ukraine.

We sincerely hope that all these events and research will be reflected in the publications of our Trypillian Civilization Journal - Volume 2014.
Dr. Mykhailo Videiko
This e-mail address is being protected from spambots. You need JavaScript enabled to view it
Dr. Nataliia Burdo
This e-mail address is being protected from spambots. You need JavaScript enabled to view it


---